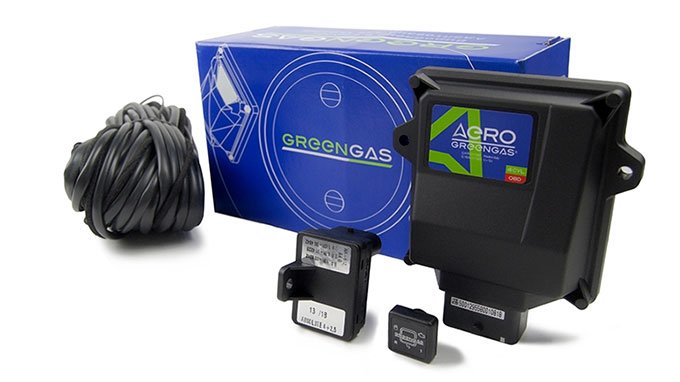 Control units GREENGAS AERO are the Italian-made electronics designed to meet the needs and wishes of all the autogas equipment installers. GREENGAS AERO is made for use in multipoint fuel systems, and its advanced functionality makes it possible to install this ECU on all modern cars.
This electronics combines unique algorithms for managing autogas systems as well as innovative solutions. GREENGAS AERO OBD is equipped with powerful processors and the function of reading OBD II and EOBD parameters, which makes possible the stable operation of autoadaptation systems according to petrol injection map. And full or partial reset of errors (check engine) became possible due to interaction with OBD.
GREENGAS AERO control units also have:
compensation map as per coolant temperature;

compensation maps as per gas temperature and pressure;

autoadaptation by injection time;

extra injection of petrol.
Among other things, it is worth to mention the possibility of emulating the second lambda sensor and this function is not available in other control units. It is this function that makes it possible to convert cars with a non-functioning lambda sensor to gas fuel without using additional emulators.
There are different versions of these control units for engines of different types - for 4, 6 and 8 cylinders. And for multi-cylinder engines the built-in function of automatic equalization of fuel banks is provided.
During maintenance of the autogas equipment with ECU GREENGAS AERO installed you do not even need to close the valve on the tank - you can simply lock the solenoid valve on the multivalve by means of software.
GREENGAS AERO has a simple installation, and absolute compatibility with most components of autogas equipment of the world's leading manufacturers.